February 26, 2014
Envy apple earns flavor favor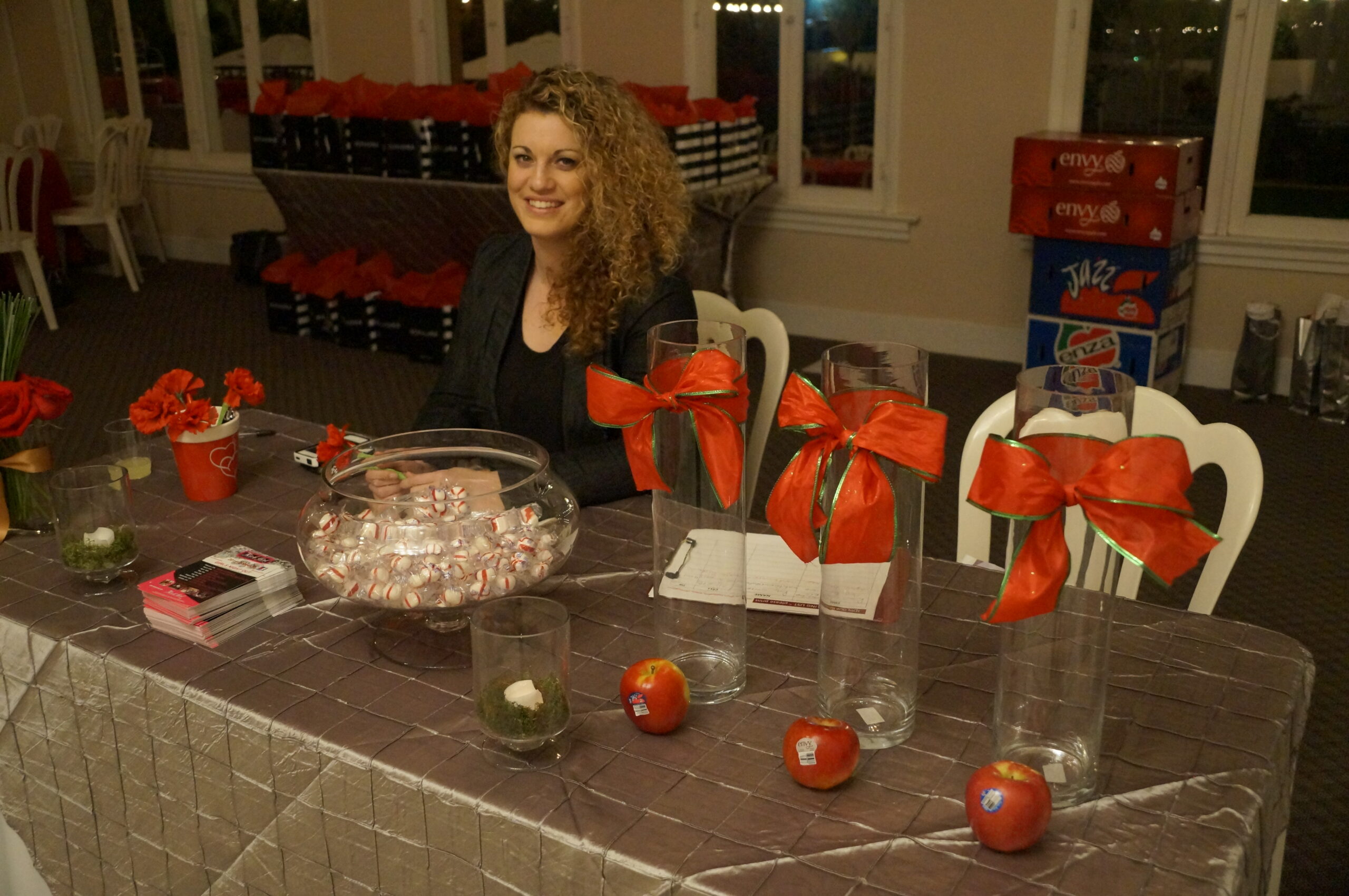 Bakersfield, Calif.― There was nothing bitter about the rivalry when JAZZ™, Pacific Rose™, and Envy™ apples went stem-to-stem in a unique flavor-savoring competition hosted by noted author and producer Arleana Waller last Thursday night.
While Envy won top honors at an evening Waller designed to convey the value apples bring to many areas of a woman's life, all three brands enjoyed prominence and polish.
Staged at the Junior League of Bakersfield, the gala event brought together the community's apple fans to vote for their favorite premium apple, while also enjoying a custom "appletizer" menu that featured such dishes as JAZZ apple Asian slaw and  Envy apple chicken roulade lollipops, as well as signature apple drinks.
In a format similar to the Food Network's "Chopped" program, a chef and a "mom who loves to cook" prepared various dishes judged in a taste-off by four Bakersfield community leaders. The panel included Danielle Wade, vice president of marketing for the Bright House Network's Bakersfield Division; Colleen Dillaway, director, public affairs and communications at California State University, Bakersfield;  Wendy Armijo, CEO of  A-Team Production, and Richie Rich, CEO of Bako Starz.
Later, representatives from Crossfit Crazy House, Sephora, and The Oppenheimer Group joined Waller to talk about apples and health, apples and beauty, and how new apples come to be.
"Consumers wield a lot of power when it comes to bringing a new apple into the mainstream," said Kori Martin, Oppy business development representative. "We had a great discussion about how they can get the apples they like best onto the shelf. Between encouraging local produce managers to stock a particular variety and using social media, the influence of the consumer is incredibly strong."
Speaking of social media, the friendship between Waller and Oppy began on Twitter, as Waller enthusiastically discovered Envy, and later JAZZ. When Envy was new, Waller routinely drove over two hours to buy the fruit since she could not find it locally. With her help, Envy is becoming one of the most sought-after apples in the Bakersfield area. Waller even appeared on Bakersfield's local morning news show, Bakersfield Now, to share her excitement about the fruit.
"This was an amazing 'un-marketing' opportunity to bring my personal passion for premium apples, particularly Envy, to my circle of influence," Waller said. "I was impressed by how much love the three apples received. Everyone had an opinion and a preference. It was fun to just talk good old fashioned apples in a new, sophisticated way."
Waller recently authored "369 Things a Woman Must Enjoy Before She Dies" a list which includes making an apple pie from scratch. Her second book, "The Girlfriend Book of Questions" will be published soon.
"We are seeing how social media influencers can become true evangelists for the brands and products they love. Arleana went the extra mile for these apples, because she is truly passionate about them," said David Nelley, Oppy's apple and pear category director. "With a Twitter following that's over 60,000 strong, Arleana has a significant voice. Her creative ideas for bringing our apples into her network have made an impact."
The Washington Envy season is wrapping up, but the much-anticipated New Zealand grown fruit will be available in June. JAZZ and Pacific Rose are available now.